A new kind of creative space with tons of natural light, Grey Frames is a modern novel space i.e available for daily/weekly/monthly rentals for photography and film shoots, seminars, workshops, talent castings, and private events hosting up to 50 people. Grey Frames studio is custom-created for rental to photographers and film professionals in Delhi and NCR, 1750 square feet of space and amenities to help you see your vision come alive .The unique, charming studio can be blacked out if needed. Our support staff is available to assist you with any need - from sourcing and ordering your equipment to finding those perfect meals between shoot.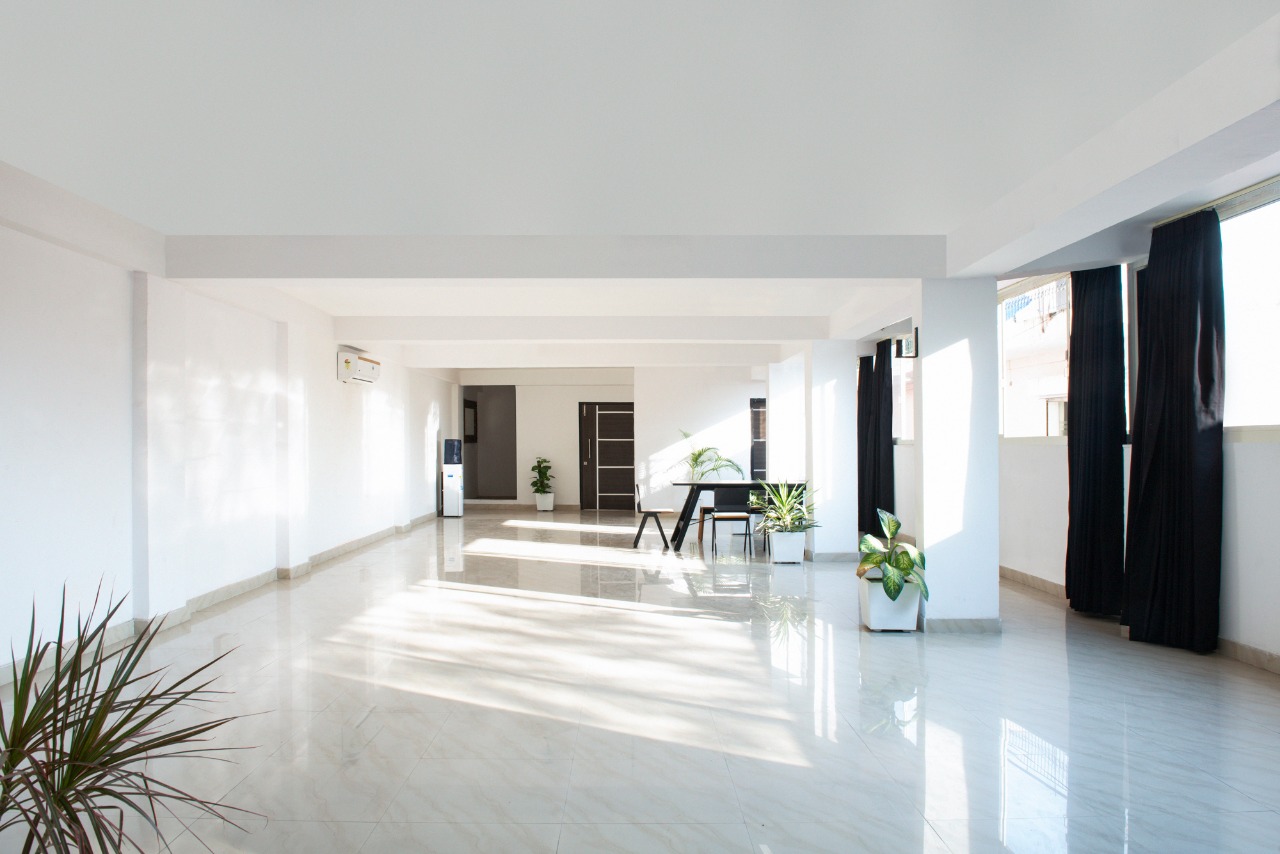 New Delhi's and NCR Premier Commercial Photography Rental Studios
PHOTOGRAPHY RENTAL STUDIO DETAILS:
Centrally Located
Nearest Metro station: Saket
Ample Parking Space
1750 Square Feet of Photography/Video studio space rental
Tons of Natural Light, can be blacked out if need be.
Power Line
Make Up Station
Green Room
Pantry Area
High Speed Wi-fi
Sound System(works with bluetooth and Aux cable)
Clothes Rack, Steamer and Ironing Board
Centralised Air Conditioning
NOTE: We do not have power cuts usually, and we do not have power backup to power the studio lights. In case you want an uninterrupted shoot, We could arrange a power backup at an additional charge. However, you need to inform us in advance or at the time of booking.
FULL DAY STUDIO RENTALS
INR 8,000 + GST
8 HOURS
OVERTIME: INR 1000 PER HOUR
HALF DAY STUDIO RENTALS
INR 5,000 + GST
4 HOURS
OVERTIME CHARGED AT INR 1,250 PER HOUR
PER HOUR STUDIO RENTALS
INR 1,500 + GST
GET IN TOUCH WITH YOUR EXACT REQUIREMENTS.
Note:

** Number of hours inclusive of your bump in and bump out time.
*** The studio will pLace a hold for the asked booking date yet would only confirm the booking once the complete payment is received.
****please go through our terms of hire before you make a booking.
GET THE TERRITORY, COMMUNITY AND ASSISTANCE YOU NEED TO MAKE YOUR CREATIVE VISION A REALITY
FREQUENTLY ASKED QUESTION'S
CAN I GET A DISCOUNT ?
We'd love to hear from you and discuss your project or shoot and help make it a success but we list our rates for a reason. Comparatively, we're priced way lower when compared to other studios and the only studio in Delhi that offers you a ton of natural light. You may just decide to not fire the strobes when you shoot.
DO YOU OFFER MULTI-DAY DISCOUNTS OR RATES ?
Yes! Please contact us for rates for multiple day bookings.
WHAT IS YOUR "HOLD" POLICY?
If you are not sure about the date of the shoot, We would need an email confirming the the tentative dates with 50% advance to hold a date. The advance is non-refundable but can be used as studio credits for future booking.
HOW TO SCHEDULE A VISIT TO THE STUDIO ?
Drop us a line with your contact details and we would get back to you.
WHAT IS THE CANCELLATION POLICY ?
In case of cancellations, the booking amount is non refundable but can be used for as a studio credit for future studio bookings within a period of 90 days (from the date of cancellation). Same day cancellations would have a no refund and a no studio credit policy.
Note:
PLEASE GO THROUGH OUR TERMS OF HIRE BEFORE YOU MAKE A BOOKING.
Contact form below is for studio bookings only
For Wedding Enquiries, Fill this form
GIVE US A CALL
+918929654864
DROP A FEW LINES
HELLO@GREYFRAMES.COM